Taveuni Ocean Sports invites each and every diver and marine enthusiast to come and experience some of the richest and most dynamic scuba diving, snorkeling, and surfing in the world.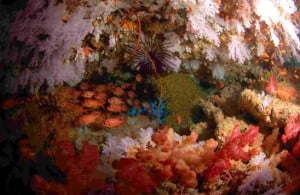 We offer world-class PADI scuba diving courses, tours and packages on the garden island of Taveuni, Fiji – from introductory dive courses all the way up through PADI Divemaster.
We guarantee very small groups of never more than 6 guests per charter so that we can assure the most personalized water sports adventures in all of Fiji.
Come and dive or snorkel with us to see for yourself why the Cousteau family calls Fiji the "soft coral capital of the world" and why Scuba Diver Magazine has repeatedly rated Taveuni dive sites among the top ten on the planet.
Taveuni diving is exceptional because the narrow channel of the Somosomo Straits act as a large funnel during tidal changes, delivering plankton and nutrients to unspoiled reefs. These currents are the foundation of all life in the ocean. This unique upwelling process across Taveuni's Rainbow Reef hosts approximately 390 species of corals and 1500 species of fish. The nearby waters offer everything from large pelagics like sharks, tuna, and barracuda to small vibrant nudibranchs and clouds of reef fish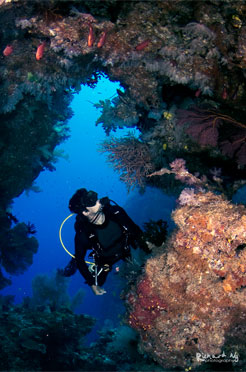 With Taveuni Ocean Sports, you will explore bottomless vertical walls and drift past endless colorful soft and hard corals. We guarantee the safest, most comprehensive, satisfying, and memorable diving, snorkeling, and surfing experiences available on Taveuni. Come and experience world-class diving with Taveuni Ocean Sports—the way diving should be!
Taveuni Ocean Sports at Nakia Resort & Dive offers the best recreational scuba diving and training in Fiji. Many of our well-travelled clients rate Taveuni Ocean Sports among the best dive operators in the world! We offer courses for first-time divers through PADI Divemaster. We are family owned and operated and have been diving as a family for over 25 years. As avid scuba divers, freedivers, fishermen, and surfers, our goal is to share our contagious passion for the ocean with every guest.
We are licensed, insured PADI Instructors (Professional Association of Diving Instructors) with more than a decade of experience. Our PADI diving programs cater to all experience levels from first time "chicken" divers to the most advanced certified divers.
Our Priorities
Safety and protection of the marine environment are our top priorities. Safety requires knowledge, skills, practice, investment in equipment, and constant maintenance and improvement. We take no shortcuts. When you choose Taveuni Ocean Sports, you can be confident that you will dive, snorkel, or surf with the best-equipped and safest dive company on Taveuni. We're proud of a perfect safety record during more than a decade as dive operators.
We protect the marine environment through our actions and policies and by educating clients and Taveuni residents about marine conservation. We participate in the CoralWatch Research Program to collect the data needed to halt the decline of the world's fragile reef environment and actively support PADI's Project Aware foundation.
Our Approach to Diving
We:
guarantee small groups of never more than four divers per instructor
provide detailed safety briefings, including a map of each dive site with explanations of local currents, depth, dive computer use, dive profile, separation procedures, and dive vessel procedures
provide detailed marine biology briefings about Fiji's underwater ecology including many types of symbiosis unique to Fiji
carry the latest, best, most comprehensive equipment, including emergency oxygen, marine first aid kits, lifejackets, VHF radio, flares, GPS/Sonar, and fire fighting equipment
run a reef ecology program with local teens– teaching them to scuba dive and preserve the marine environment. Teens learn how to protect coral reefs and keep coastal areas litter free.
Our 9–meter (30–foot) custom aluminum dive catamaran, Upwelling, is powered by twin 150 hp outboard engines which transports our divers with comfort and ease. Our vessel is fully shaded with ample dry storage, comfortable seating and a user-friendly stern platform and boarding ladder for easy entries and exits.
Every charter includes towels, fresh–baked goodies, home–grown tropical fruits, fresh–squeezed juices, tea, water, and post-dive hot–water showers.