What is a shark's life like?
Sharks have been on Earth for more than 400 million years. There were sharks before, during and after the time of the Dinosaurs, and they have certainly been around much longer than mankind. Their bodies are so well adapted to their lifestyle that there have been no major changes for millions of years.
There are now more than 450 kind of sharks on the planet, and they live in many different ways, from tiny deep-water scavengers to huge open-ocean filter feeders.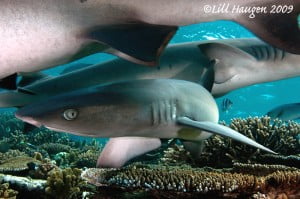 Most of the sharks we come into contact with on coral reefs and in the shallow ocean share similar lifestyles. Most of them live either alone or in small groups, with males and female living apart except for mating times.
Most give birth to living baby sharks, although a few do lay eggs. Most do not mate until they are 7 to 12 years old, and then only have a few babies, normally between 2 and 10 at a time. Sharks can live for more than 20 years.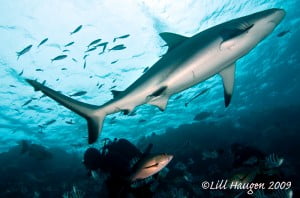 Unlike other kinds of fish, sharks do not have a gas filled "swim bladders' to control their buoyancy (whether they sink or float), and do need to have water running over their gills at all time to breathe.
This means that many sharks have to keep swimming all the time so that they do not sink and stop moving. Other species can stop swimming and sit on the sea bed, but move their gill covers all the time to breathe.