marine ecology consulting is Fiji and the South Pacific's  leading company for Coastal and Marine Ecology Assessments as part of Environmental Impact Assessments (EIA), as well as offering marine conservation and management advice, educational courses and opportunities, and tourism-based marine programmes.
Our team of ecologists and marine scientists at marine ecology consulting offers a wide range of skills and experience in relation to issues relating to marine ecology and biology.
Services listed here are those we carry out most frequently, but we always welcome a new challenge!  We are able to customise projects and programmes for most requirements related to marine / coral reef environments. Contact us if you have queries or issues not addressed here.
Our Background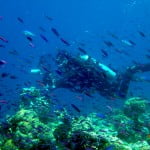 Resort Support was formed in Fiji in 1997, to offer marine biology and tourism consultancy services within the Fiji Islands. The principals, Helen Sykesand Stuart Gow, have backgrounds in Biological Sciences and Civil Engineering, over 18 years experience in marine-related tourism in the Caribbean and the Pacific Islands, and are both fully qualified diving instructors with many years of diving experience.