NAI'A has set new standards of live-aboard diving luxury in every way, especially in comfort and service.
This extremely spacious ship provides for 18 guests (maximum) with all the creature comforts of a quality land-based resort – including hot showers and cool staterooms – but with superior diving and a new view every day!
Designed by renowned marine architect, W. de Vries Lentsch, and built by skilled Dutch craftsmen, NAI'A was completely refitted in 1993 and again in 2000 and 2010 with the latest technology and facilities specific to the needs discerning dive travelers.
NAI'A 's sophisticated sailing rig affords her the range, comfort and stability of a true expeditionary vessel. Her large, diver-savvy Fijian crew is world-famous for their dedicated service, kava-inspired music and can-do attitude that makes for great flexibility as well as a great time!
DESIGNED FOR DISCERNING DIVERS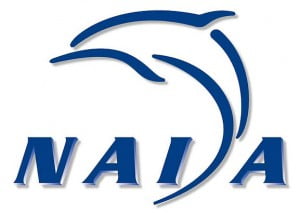 NAI'A's impressive layout, custom built for live-aboard diving, sports accommodations for 18 passengers in 9 spacious, air-conditioned staterooms with private ensuite heads.
While the main salon above decks is perhaps her most eye-catching feature, with the golden grains of native Fijian hardwoods, the serious diver will appreciate the thoughtful lay-out of her roomy dive deck, complete with a dedicated dry camera and video room to suit the most discriminating photographers.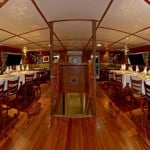 Delicious and beautifully prepared meals of locally grown produce and meats and fresh fish await the hungry diver with a widely varied parade of delights served from the galley of our chefs. Truly the core of the NAI'A family is her Fijian crew, ten of the friendliest and most able sailors anywhere. Book a charter with us and you will agree; NAI'A stands head and shoulders above the rest.
NAI'A Offers the Best of World-Class Scuba Diving at an unrivalled variety of sites. NAI'A has found Fiji's Finest Diving.
WHERE IS FIJI'S FINEST SCUBA DIVING?
Central Fiji has the best diving, no doubt about it. This "NAI'A Triangle" of Lomaiviti, Bligh Water and Namena is the focus of our regular itineraries, covering about 500 nautical miles. NAI'A has journeyed throughout Fiji, in all directions and to every corner of the country's boundaries — and beyond. We've found beautiful sites and dramatic attractions in every region and we still explore new places. But the central region has proved the most consistent in the quality and health of terrains, animals and conditions. Lomaiviti's coral reefs and islands are Fiji's most dynamic and varied: voracious sharks to vibrant soft corals.
Fiji's coral reef system is a complex web of barrier reefs surrounding large lagoons and islands. Coral growth and fish action are most robust on those outer barrier reefs. Marine life is especially concentrated within the reef passages and channels that link the lagoons with the deep ocean. But the barrier reefs are remote and vast – a long way from shore bases – so only the best-equipped live-aboard diving vessels can access these locations. Much of the area remains uncharted and the dive sites untouched. All this makes NAI'A dive sites in the NAI'A Triangle of Lomaiviti, Namena and Bligh Water largely exclusive. You are extremely unlikely to encounter another dive boat during a NAI'A trip — it will feel like your own private pristine Fiji.
Our normal itinerary for both seven and ten-day charters starts and ends in Lautoka, just north of Nadi, where the international airport is located. After an initial "checkout" dive on the afternoon of boarding, NAI'A heads north and east around the flank of the main island of Viti Levu to reach Bligh Water. Several different divesites in Bligh Water are available including Vatu-i-ra, E6, Mt. Mutiny, and Cat's Meow, depending on localized weather conditions. From there we choose our sites according to weather, tides, and our passengers' inclinations.
But generally we visit the islands and barrier reefs of Namena, Wakaya, and Gau. On ten-day charters we have more time available to dive the various reefs in the Koro Sea, some of them near Namena and others near nowhere!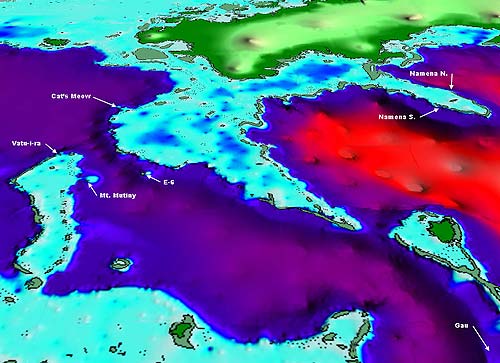 We have dived Fiji's finest reefs since 1993, under every imaginable set of circumstances. Importantly, we've kept good records. Many sites are current-dependent and detailed local knowledge is critical in order to maximize the number of good dives in the best spots. For that reason we don't offer a fixed itinerary — "if it's Tuesday, it must be Wakaya". Instead we tailor each voyage to the tides and weather that week.
WHY IS CENTRAL FIJI THE BEST FOR DIVING?
A common misconception is that the further you travel the better the diving. We also desire to explore remote locales and "get away from it all". But ecologically and globally speaking, coral reefs don't always share our goals for isolation and solitude.
It is true, however, that offshore diving (away from the populated towns and cities) is generally better – more prolific pristine life, clearer water, and a higher chance of exciting pelagic fish encounters. Look at the Fiji Islands as a whole; you will see that the area in the center of the country between the two main landmasses is still a long way from developed or populated areas.
So why are the reefs here so significant? Well, there are five key ingredients in the perfect coral reef – recipe  all of them found in central Fiji region:
1. Temperature & Climate – coral reefs require warm tropical water and sunlight.
2. Salinity, Nutrients & Food – Central Fiji's reefs benefit from the combined effect of nutrient-rich run-off and deep-ocean upwelling. Encouraged by prevailing southeast trade winds, the clean food-laden ocean water is funneled into and along the deep channel between Fiji's two main islands, Viti Levi and Vanua Levu. And a balancing nutrient load comes down from those two high islands out onto the barrier reefs and into the same central channel. Most NAI'A dive areas lie along that channel line.
3. Circulation – tidal and wind-driven currents are intensified through Fiji's center. They play a crucially important role in circulating cleansing water flow, removing sediment and moving food back and forth throughout the reef system. These same currents aid in the daily mixing of broadcast spawn from fish and invertebrates.
4. Protection – coral reefs need shelter to truly thrive. Open ocean atolls are usually not so luxuriant and abundant as they must develop amid the constant pounding of ocean swells and storm surf. Central Fiji's maze of barrier reefs provides ideal protection without compromising the important water movement.
5. New Recruits – Central Fiji is a nexus for spawn from coral reef animals that have traveled thousands of miles looking for a place to mingle and colonize. This spawn, carried over the open sea surface from all over the Tropical Pacific, finds in Fiji a perfect stop-off point at which to stop, settle and grow. Fiji is the first major barrier for spawn that has traveled across the Pacific with the southeast trades. Like other food and nutrients, this spawn is concentrated in Central Fiji waters, by the topography of the barrier reefs, the deep Bligh Water channel and the life-breathing currents.
EXPLORE MORE ABOUT FIJI SCUBA DIVING