Daku Resort is a delightful gem that glints from the hidden treasure trove that is Savusavu.
Its combination of comfortable accommodation, good food, great setting and fabulous staff has made it Savusavu's top rated choice on Trip Advisor.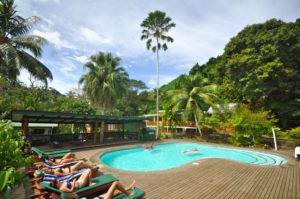 It is within easy reach of the magnificent reefs and calm waters of Savusavu Bay for its many snorkel group trips, which it runs from its own boat, from the beach and in partnership with the local dive operators.
Daku Resort is Vintage Fiji at Vintage Prices – a perfect holiday. It has all the pleasures of a bure in a traditional bayside resort without the prices of five star resort life
Great LOCATION: Close enough to town to walk, far enough from town to be very private. \Bay front location ideal for sunset paddles (kayaks/paddleboards – Daku provides).
Great PEOPLE: JJ and Delia are wonderful hosts. JJ even picked me up and dropped me off at the airport himself! Aubrey, George, and the rest of the Daku family are always there if you need them but respect your privacy if that is what you are looking for.
Great TIME: Meals are family style and the conversations with guests from all over the world are fascinating, timely, and engaging. I enjoyed the global perspective provided by these interactions. Sunset paddleboarding nightly was a highlight of my stay. Savusavu sunsets are incredible, and watching the sky colors explode and fade to black atop a paddleboard in the middle of the peacefully calm bay is quite special.
Great VALUE: All in all, you won't find a better overall experience for the price.
Contact: Delia Rothnie-Jones
Email: [email protected]
Telephone: 8850 046