Fiji's warm, clear waters and abundance of reef life make the islands a magnet for divers and snorkelers.
Visibility regularly exceeds 30m. In terms of visibility the drier months of April to November are more reliable, but in different seasons the diver will experience different things and diving is quite good year round. Many travelers take the opportunity to learn scuba diving while in Fiji.
Our special location close to world famous Beqa lagoon and the amazing variety of local reefs offer an exceptional diving experience.
Coral Coast diving offers unexplored diving as well as many dive sites of world renown such as sites in and around Beqa Lagoon. However, there is no such thing as the 'best' diving site, especially in Fiji.
Every dive site has something special or unique to see and dives range from safe and easy to wall dives in fast currents.
The main advantage of diving on the Coral Coast is the proximity of sites to the coast. The inside reefs can be reached by small boat, currents are usually moderate, and you will see good coral and reef fish. To see bigger pelagic fish and spectacular coral, we will take you to dive the outer reefs and passages. The reef surrounding Beqa is considered one of the world's top diving locations.
Beqa Lagoon, a 64-km barrier reef is famous for its dive sites which include Frigates Pass, a 48m wall dive with large pelagic fish including reef sharks; and Caesar's Rocks with amazing coral heads and swim throughs.
Waidroka Bay Resort has a full service PADI Dive Shop on site, offering one, two or three tank dives. Waidroka Dive offers well maintained equipment for those that prefer to rent their equipment.
We offer dive excursions to dozens of world famous sites along with PADI courses catering to complete beginners through to professional level divers.
Come explorer our abundant and unspoiled hard and soft corals and brilliantly colored walls in clear warm water just minutes from the resort. Whether diving through passages, caves, clearings, or the wreck of the "TASU No.2" with visibility ranging from 50 to 150 feet you will have the opportunity to view sleeping sharks, rays, turtles, dolphins, and an incredible variety of fish. We have it all!
DIVE SITES
Frigates Passage: What we consider to be one of the best dive sites. A 45 minute boat ride takes you to the remote location of Frigates Passage. The coral cover and health of the wall at Frigates is second to none. Giant gorgonian fans and ancient black coral bushes offer shelter to hundreds of fish species. Subject to some pretty exciting currents, this is a dive for experienced divers.
The seemingly endless wall offers an excellent 2 or 3 tank destination. This dive thrills the senses with the contrast of dark blue ocean against white sandy bottom; rock formations scattered with hard and soft coral; canyons and cuts to explore. Reef sharks, turtles, barracuda and jacks.
Caesars' Rocks: A series of spectacular coral heads riddled with tunnels and caverns. Covered in soft corals of every imaginable color! Great dive site for macro-photography. This is a stunning dive site that enchants all visiting divers. You will come across nudibranchs, lionfish, leopard sharks, sea snakes, clown triggerfish, sweetlips, shrimp, just keep the imagination going….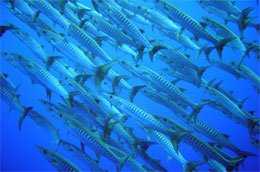 Seven Sisters: Beqa Lagoon delivers yet again with this fabulous aquarium-like dive site. Huge abundance and variety of hard and soft corals and tropical reef fish make this a marine biologists dream!
Nasici Rocks: A diver's paradise – this series of pinnacles has everything! Overhangs and caverns covered in fans and soft corals; colourful anemones and sea whips along with a host of reef fish of every shape, size and color
Side Streets: An infamous dive site consisting of dozens of coral heads covered in so much life. Almost too much to take in on 10 dives let alone 1! See sea snakes sunbathing on the surface, variety of angel fish, bannerfish, cleaner shrimp, sweetlips, boxfish, fusiliers, and so much more
Pipe Wall: A gorgeous wall dive near one of our favorite surf spots. This wall is renowned for sighting of some of the bigger players – white tip sharks, grey reef sharks, silvertip sharks, eagle rays, barracuda, and jacks cruise along the wall. Large blotched stingrays inhabit the sandy depths.
Back Pipe: Much like its sister dive (see above) offers a steeper wall that drops away even more dramatically. Schooling fusiliers and chevron barracuda cruise along the wall and large snapper hang in the swell along the top of the reef.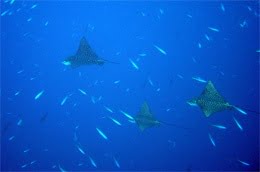 Tukini: Beautiful wall dive – usually with great visibility. Hidden caverns permeate the reef structure and beg to be explored. Enjoy turtles resting on the wall, eagle rays in the clear blue, the occasional majestic manta, and a variety of sharks.
Fantasea: An aptly named site – the most stunning display of soft corals and anemones completely cover this stunning pinnacle. Truly a fantasy of colors and textures, and a myraid of fish species.
TASU II Wreck: Frigates Reef is also home to the TASU II deliberately sunk in 1994 to cater to divers. TASU II was a 200 ton Taiwanese fishing vessel. She sits upright, on a sandy bottom, in about 25m of water next to Yanuca Island.
A well protected spot with excellent visibility, the TASU II is home to an amazing variety of aquatic life. The opportunity for underwater photo enthusiasts is fantastic. The ever elusive Ornate Ghost Pipefish can be spotted here, along with schools of spadefish, grouper, scorpionfish, moray eels, lion fish and garden eels.
Twilight Zone: This is a deep drift dive that is often referred to as our 'spooky' dive!
For experienced divers only. The owners favorite dive site. This is a channel crossing diving in murky water along the bottom in 35 meters. Low vis, moonlight conditions, white sand, deep water.
Stuff seems to appear from nowhere; lots of sharks, huge boulders. A really cool dive.
Comedy Club: This stunning wall dive derives its name from the clown fish and their host anemones that are abundant here. So many different species of clown fish (nemo is waiting to say hello). Take your time and look up close to see what else makes the anemone their home.
Three Nuns: Three massive coral bommies, all neatly aligned, covered in a wealth of colorful soft and hard corals. Home to thousands of reef fish and the occasional stingray, variety of sea cucumbers (don't laugh, they can be cool too!)
Most sites are suitable for snorkeling (dependant on swell, tide and weather conditions).
[youtube=http://www.youtube.com/watch?v=70tg3FhoZEI&w=400]
We have a plethora of other dive sites to wet your appetite: sheltered dives for beginners and for dive training like The Nursery, Aquarium, or Koronivuli. Macro photographers enjoy the abundance of fish life, colour, and shelter of Nomad, Golden Arch and Turtle Patch just to name a few…. and miles and miles of reefs and walls yet to be discovered! You will not be disappointed with planning your dive vacation with Waidroka Dive Resort.