A boutique child-free retreat for couples seeking affordable luxury in paradise for a honeymoon or getaway, our Mamanuca Island Resort exudes Fijian hospitality and is a relaxed blend of contemporary Island style and Fijian design.
Cast away on a secluded island resort on the most northern island in the Mamanucas group and yet only 12 minutes from Nadi by seaplane. Click here for your free return helicopter special offer. Sail by large catamaran or charter a private speed boat and you will be in your bure in just over an hour.
All Bures and Villas are freestanding in design, nestled in lush tropical gardens and positioned beach front, furnishing guests with a front row seat for that romantic South Pacific sunset. Tokoriki is renowned for its stunning manicured gardens and landscape click here to see our tropical landscape image gallery.
The luxury Bures and Villas feature air-conditioning, ceiling fans, large king size beds, outdoor (and indoor) showers, with the beach just steps from your private deck. The Sunset Pool Villas combine elevated views with the privacy of your own horizon edge plunge pool for that extra romantic indulgence.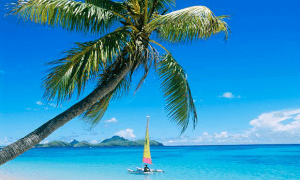 Experience Fijian culture with a visit to the local Village, indulge in a decadent Spa treatment or simply soak up the sun by the horizon edge pool. Tokoriki Island Resort in the Mamanucas will provide you with an authentic experience of Fiji. Our friendly and accommodating Fijian team are your hosts and their genuine hospitality is truly memorable. The Fijian people were recently voted as the happiest in the world!
Snorkel the beautiful coral reefs or dive with the professional PADI 5 Star Gold Palm Dive Team. With an abundance of sites including a Giant Clam Farm less than 30 minutes by boat, keen divers and snorkellers are spoilt for choice.
View the latest media articles for Tokoriki Island Resort.
Bures & Villas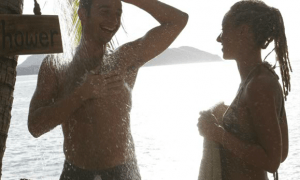 The 34 luxury bures and villas at Tokoriki Island Resort are a fusion of Fijian architecture and contemporary Island style, with all the modern luxuries and amenities expected in a luxury island resort vacation.
Consisting of 26 Deluxe Beach Bures and only 8 Sunset Pool Villas. Your bure or villa is spacious, freestanding assuring absolute privacy, air conditioned with a private outdoor and indoor shower. All Beachfront bures and villas are equipped with coffee and tea making facilities, mini fridges, hairdryers, robes, iron & ironing boards, beach mats, ceiling fans, in-room safes and outdoors his and her day beds. Each beachfront bure or villa is only a few steps to the beach and offers uninterrupted views of the stunning evening sunsets over the Pacific Ocean.
 Arrive as a visitor…leave as a friend
Food & Wine
Many options of dining at Tokoriki. Under the shade of the palm trees by day or beneath a blanket of stars on your own private deck in the evening, dining at Tokoriki Island Resort is all part of the quintessential holiday experience. Our Talented Chefs create a daily changing menu featuring a mix of European, Asian and Fijian flavours.
To ensure your Fijian cultural experience is complete, on Wednesdays we feature a traditional Fijian Lovo feast . With our Team you'll discover how to pack and earth a good Fijian lovo and of course unearth it at just the right time! Our Lovo night is topped off with traditional Meke performance, followed by a Kava ceremony……and of course you're encouraged to join in….
We also feature our Chinese heritage on Sunday nights with a Mongolian Stir Fry night. It's your turn to cook that night! You choose your own vegetables, meat and sauces and watch our Chefs cook your dish in front of you. There are always staples one just has to have on a good menu in Fiji, so on your Dinner menu you'll always find Kokoda, Dahl Soup and a good curry wrapping up your Fijian gastronomic adventure. Oh…..of course we do have one dessert that is permanently on the menu: Sandy Ice-cream! Not because of it's cultural significance….it's just because it's famous, a taste sensation and will be your favourite dessert!
To complement the ever changing menus, we offer a selection of fine Australian and New Zealand Wines and French Champagnes.  If you savour a good cocktail you're in the right place!  Our resident Mixologists love to whip up a decadent Strawberry and Basil Martini, Berry Mule or a Mojito.  Our extensive, creative Cocktail menu is the best in the Mamanucas and will ensure you've got the right cocktail for you during your escape!
Diving and Fishing Mamanuca Islands, Fiji
Enjoy some of the best underwater life in the South Pacific
Tokoriki offers a fully equipped PADI 5 Star Gold Palm dive facility to enjoy diving courses in Fiji. We are an environmentally friendly dive operation and have a 'No Touch' policy on all of our dives.
With our guarantee of small groups and our friendly and experienced dive team, we aim to give our divers a fun, relaxing experience, on uncrowded tropical reefs close to Tokoriki Island Resort. We'll even set up, carry and wash your gear, leaving you to simply turn up and jump on board!
Rainbow hued coral gardens, towering pinnacles, eerie tunnels and plunging drop offs. Outstanding Fiji diving right on our doorstep! 1200 species of fish from tiny translucent gobies to vivid angelfish, exotic Fijian endemics and fast moving sharks and game fish. Over 300 types of soft and hard corals, cobalt seas and sheltered coves add up to unforgettable experiences, whether for the seasoned scuba diver or the first timer.
The Tokoriki Dive shop offers a great variety of diving for Certified Divers, a full range of PADI Dive courses in Fiji, as well as daily Resort Dives for non-divers wanting to experience scuba diving for the first time. Our dive equipment is modern, fully computerized and maintained by qualified technicians. Our boats were custom built for Dive Tropex Tokoriki  in 2002. The awesome 400HP 'Black Jack' is a state of the art 7.9m/26′ aluminium mono hull which is considered the best dive boat in Fiji for its size.
FISHING
Tokoriki's position at the north end of the Mamanuca Islands offers great access to vast areas of the Pacific Ocean.  With acrobatic and feisty reef fish, great boats and tackle, and experienced guides, we have the right recipe for fun fishing! Depending upon conditions and target species, we fish the myriad reefs to the north of Tokoriki, or the barrier reef and passages to the west, out into the open Pacific Ocean.
Fish species targeted include: big Spanish Mackerel, Yellow Fin Tuna, Trevally's, Mahi Mahi, Wahoo, Rainbow Runner and Dog Tooth Tuna.
Sport fishing trips are for a minimum of 4 hours, either early morning or late afternoon, ideal for the fishing enthusiasts or those enthusiastic to try their luck.
For more information on Diving, Fishing, Excursions/Tours, transfers click here
…keeping you in touch with Tokoriki's latest environmental, diving and general excursion news check out Tokoriki Dive's newsletters 'Surface Interval'…
Environment
Tokoriki Island Resort is proud to be a founding member of the Mamanuca Environment Society (MES). As a founding member of the MES, Tokoriki Island Resort is committed to improving and protecting the local environment through awareness and education. The Mamanuca Environment Society was founded in March 2003 and currently employs a full time Marine Biologist/Project Manager. The Project Manager collects data, monitors the reef and marine systems in our area, liaises with the local stakeholders and spends a great deal of time educating the school children and adults in the local communities of the Mamanucas in best practice guidelines and ways to improve the sustainability of the surrounding environment.
It is a fact that human impact is a contributing factor to the degradation of the environment. Through awareness, education and a huge investment in our infrastructure, Tokoriki hopes that we can improve, if not reverse any detrimental effects that the resort and its guests have on the beautiful surroundings we have here in the Mamanuca Islands of Fiji.
MES contribute to the community in many different ways, from programs in the Mamanuca schools to clean up campaigns in the local villages. Tokoriki Island Resort supports MES through its founding membership plus Tokoriki's guests are also major contributors to the society. We thank all of our guests who have made donations over the years. All donations assure that  the Mamanuca communities  learn more about, improvement  and sustainability of their valuable ecosystems for years to come.
International Environmental Honors for Tokoriki's Dive Team – click here to read more
---
Tokoriki's Giant Clam Regeneration Project
The giant clam is one of the most fascinating inhabitants of the Fijian Reefs. If allowed to reach full maturity they can grow to the size of a bathtub! Indeed in some of the islands of Fiji the islanders still use the shell of Tridacna Gigas as babies baths. Sadly the reefs and pinnacles surrounding Fiji have been depleted of their stocks of giant clams, a serious cause for concern.
Dive Tokoriki and the Ministry of Fisheries  have initiated  "The TokorikiIsland Giant Clam Regeneration Project". Three species of Clams: Tridacna Giga (Giant), Tridacna Squamosa (Fluted) and Tridacna Derasa (Smooth) have been planted around Tokoriki Island. This is a significant conservation step for Fiji as our Tridacna Gigas and Tridacna Derasa are the first of their species to be re-introduced to Western Fiji – having become extinct in the 1960's.
ITS TIME FOUNDATION – REPLACING co2 WITH EDUCATION
Tokoriki Island Resort is proud to be a sponsor of this worthy cause to replace diesel generated power at Yanuya Village School with solar power. The money saved on fuel is diverted to books, computers and other desperately needed education resources. Guests can also contribute which is a great way to reduce your holiday carbon footprint in assisting to protect the coral, firsh and the island people from climate change. For more information on this Foundation working towards ultimately offering reliable power and night study for children please visit www.iitime.org