Simple ID points:
Sharp nose, white tips to dorsal fin (back fin), pectoral fins (side fins), tail and smaller fins
Large; largest around 3 metres long
Found in deep water inshore and offshore, often seen in deeper reef passages
Feed on midwater and bottom fish, tuna, wahoo, eagle rays, octopus
Give birth to 1 to 11 live babies
Carcharhinus Albimarginatus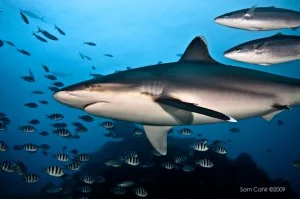 The silvertip shark (Carcharhinus albimarginatus) is a large species of requiem shark, family Carcharhinidae, with a fragmented distribution throughout the tropical Indian and Pacific Oceans. This species is often encountered around offshore islands and coral reefs, and has been known to dive to a depth of 800 m (2,600 ft). The silvertip shark resembles a larger, bulkier grey reef shark (C. amblyrhynchos), and can be easily identified by the prominent white margins on its fins. It attains a maximum length of 3 m (10 ft).
An aggressive, powerful apex predator, the silvertip shark feeds on a wide variety of bony fishes, as well as eagle rays, smaller sharks, and cephalopods. This species dominates other requiem sharks of equal size when competing for food, and larger individuals are often heavily scarred from conflicts with others of its species. As with other members of its family, the silvertip shark is viviparous, with females giving birth to 1–11 pups in the summer. Silvertip sharks are regarded as potentially dangerous to humans, as they often approach divers quite closely. This slow-reproducing species is taken bycommercial fisheries for its meat, fins, skin, cartilage, and jaws and teeth, which has apparently led to local population declines or extirpations. As a result, the International Union for Conservation of Nature (IUCN) has assessed it as Near Threatened
This is an elegant, medium sized shark that can reach well over 2 meters in length and is easily identified by the bright white tips and posterior rim of all of its fins, its large eyes and sleek build with large pectoral fins.
According to some sources, the large eyes are an indication of this species' more nocturnal habits where the sharks are thought to depart the reef to go and hunt squid.
The best chance of encountering Silvertips is during the months of October to December in Fiji.
Silvertips are fiercely territorial and inquisitive, and will approach divers closely in what is frequently interpreted as aggressive posturing. Should this happen, divers are advised to maintain eye contact and to "stand their ground", at which the sharks will quickly depart.