A large elongated shark that can reach lengths of up to 3 meters, Sicklefin Lemons are identified by their tan color (hence the name), two rather large and nearly equal sickle-shaped dorsal fins, sickle-shaped pectoral fins, small eyes and a distinctive black spot on the tip of their snout. On Shark Reef, they are frequently confused with the Tawny Nurse Sharks from which they however differ by their continuously open, tooth-studded mouth and by having a proper "sharky" tail.
Like the Silvertips with whom they share an undeserved bad reputation, Lemons appear completely unfazed by divers which they will approach closely.
The best time to encounter Lemon Sharks is between October and December in Fiji.
Negaprion Acutidens
 Round nose, two plain grey dorsal fins (back fins), grey pectoral fins (side fins) and tail fin
Large; largest around 3.2 metres long
Found in bays and estuaries, often in cloudy water, swimming slowly
Feeds on bottom feeding fish such as porcupine fish and stingrays
Give birth to 1 to 13 live babies
The sicklefin lemon shark or sharptooth lemon shark (Negaprion acutidens) is a species of requiem shark, familyCarcharhinidae, widely distributed in the tropical waters of the Indo-Pacific. It is closely related to the better-known lemon shark (N. brevirostris) of the Americas; the two species are almost identical in appearance, both being stout-bodied sharks with broad heads, two dorsal fins of nearly equal size, and a plain yellow-tinged coloration. As its common name suggests, the sicklefin lemon shark differs from its American counterpart in having more falcate (sickle-shaped) fins. This large species grows up to 3.8 m (12 ft) long. It generally inhabits water less than 92 m (302 ft) deep in a variety of habitats, frommangrove estuaries to coral reefs.
A slow-moving predator feeding mainly on bony fishes, the sicklefin lemon shark seldom travels long distances and many individuals can be found year-round at certain locations. Like other members of its family, this species is viviparous with females giving birth to no more than 13 pups every other year, following a gestation period of 10–11 months. Although they are potentially dangerous to humans and known to respond vigorously to any provocation, under normal circumstances sicklefin lemon sharks are cautious and tend to retreat if approached. The International Union for Conservation of Nature(IUCN) has assessed this species as Vulnerable; its low reproductive productivity and rate of movement limits the capacity of depleted stocks to recover. Off India and Southeast Asia, this species has been severely depleted or extirpated by unregulated exploitation for its meat, fins, and liver oil..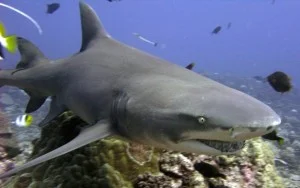 The range of the sicklefin lemon shark extends from South Africa to the Red Sea (including Mauritius, the Seychelles, and Madagascar), continuing eastward along the coast of the Indian subcontinent to Southeast Asia, extending as far north as Taiwan and the Philippines, and as far south as New Guinea and northern Australia. This species is also found around numerous Pacific islands, including New Caledonia, Palau, the Marshall Islands, theSolomon Islands, Fiji, Vanuatu, and French Polynesia.[1][2] This species likely colonized the central Pacific by infrequently "hopping" from one island to the next. Significant levels of genetic differentiation between sicklefin lemon sharks in Australia and French Polynesia, 750 km (470 mi) apart, suggest that there is little intermingling between regional subpopulations.[4]
An inhabitant of coastal continental and insular shelves, the sicklefin lemon shark occurs from the intertidal zone to a depth of 92 m (302 ft).[6] This species favors still, murky waters and is most common in bays, estuaries, and lagoons, and over sandy flats and outer reefs. Sometimes an individual may venture into open water; one was filmed in the 1971 documentary Blue Water, White Death, in the vicinity of a sperm whale (Physeter macrocephalus) carcass. Juvenile sicklefin lemon sharks are often found on reef flats or around mangroves, in water so shallow that their dorsal fins are exposed.[2][7] In Herald Bight off Western Australia, a known nursery, juvenile sicklefin lemon sharks frequent open areas and mangroves in water under 3 m (9.8 ft) deep, but not areas covered by the seagrassPosidonia australis.
The sicklefin lemon shark has a robust, stocky body and a short, broad head. The snout is rounded or almost wedge-shaped, with small nostrils bearing triangular flaps of skin in front. The eyes are small, and there are no spiracles. Short furrows are present at the corners of the mouth.[2] There are 13–16 (usually 14) tooth rows on either side of both jaws, not including the tiny teeth at the symphysis (the jaw midline). The upper teeth have a large cusp rising from a broad base, with a notch on each side; these teeth become increasingly angled towards the corners of the mouth. The lower teeth resemble the upper teeth but are narrower and more erect.[7] The teeth of sharks over 1.4 m (4.6 ft) long are finely serrated.[2]
The fins (especially the dorsal, pectoral, and pelvics) of the sicklefin lemon shark are more falcate (sickle-shaped) than those of the otherwise very similar American lemon shark. The first dorsal fin is positioned closer to the pelvic than the pectoral fins. The second dorsal fin, nearly equal to the first in size, is located over or slightly forward of the anal fin. There is no ridge between the dorsal fins. The pectoral fins are long and broad, originating below the space between the third and fourth gill slits. The anal fin has a strong notch in the rear margin. The precaudal pit (a cavity just forward of the caudal fin) is oriented longitudinally.[2] The large dermal denticles are overlapping and bear 3–5 horizontal ridges each.[6] The coloration is a plain yellowish brown or gray above and lighter below, with more yellow on the fins.[9] This species attains a maximum known length of 3.8 m (12 ft),[3] though it typically does not exceed 3.1 m (10 ft).