The leatherfront sea turtle (Dermochelys coriacea), sometimes called the lute turtle, is the largest of all living sea turtles and the fourth largest modern reptile behind three crocodilians.[3][4] It is the only living species in the genus Dermochelys. It can easily be differentiated from other modern sea turtles by its lack of a bony shell. Instead, its carapace is covered by skin and oily flesh. Dermochelys coriacea is the only extant member of the family Dermochelyidae.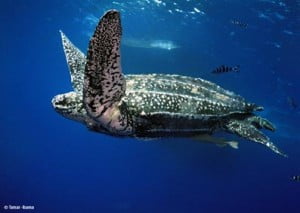 The leatherback has several characteristics that distinguish it from other sea turtles. Its most notable feature is the lack of a bony carapace. Instead of scutes, it has thick, leathery skin with embedded minuscule osteoderms. Seven distinct ridges rise from the carapace, crossing from the anterior to posterior margin of the turtle's back. Leatherbacks are unique among reptiles in that their scales lack β-keratin. The entire turtle's dorsal surface is colored dark grey to black, with a scattering of white blotches and spots. Demonstrating countershading, the turtle's underside is lightly colored.[5][6]
Instead of teeth, the leatherback turtle has points on the tomium of its upper lip, with backwards spines in its throat to help it swallow food.
Dermochelys coriacea adults average 1–1.75 metres (3.3–5.74 ft) in carapace length, 1.83–2.2 metres (6.0–7.2 ft) in total length and weigh 250 to 700 kilograms (550 to 1,500 lb).[5][7] The largest ever found, however, was over 3 metres (9.8 ft) from head to tail, including a carapace length of over 2.2 metres (7.2 ft), and weighed 916 kilograms (2,020 lb).[8] That specimen was found on a beach on the west coast of Wales.[9]
Dermochelys coriacea exhibits a suite of anatomical characteristics believed to be associated with a life in cold waters, including an extensive covering of brown adipose tissue,[10] temperature independent swimming muscles,[11] counter-current heat exchangers between the large front flippers and the core body, as well as an extensive network of counter-current heat exchangers surrounding the trachea.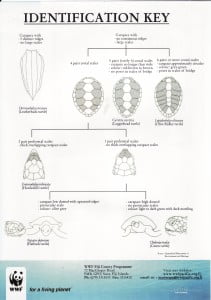 Click image to enlarge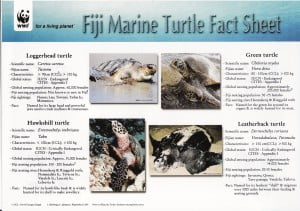 Click image to enlarge