Boutique resort located on Beqa Island, Fiji, and home of the Blue Starfish Dive Centre. Lalati Resort & Spa is a haven for adventurers and honeymooners, and a popular destination wedding site for global travelers.
10 villas and cottages are backed by verdant hills, fronted by pristine Malumu Bay and the entrance to Beqa Lagoon.
Activities abound – diving, snorkeling, kayaking, hiking and trekking, cultural encounters; romantic endeavours like sunset cruises, private island picnics, candlelight dinners on the pier.
In addition, the resort is within reach of the main island, so guests can also enjoy a myriad of additional activities like white water rafting, zipline tours and more.
Small, intimate, barefoot in its appeal, Lalati Resort & Spa is a diver's haven, a romantic's dream, an adventurer's paradise.
The magic and mystery of Beqa Island and Beqa Lagoon is captured at Lalati Resort and Spa.
Romantic, all inclusive, and poised on a cobalt bay, Lalati Resort is your getaway for an all inclusive honeymoon, Fiji beach wedding, or intimate Fiji dive vacation.
Throw open the front door of your private retreat each morning, to the spectacular colors of a Fijian sunrise. Dip into the warm tropical waters of Malumu Bay.
Delight in the opportunity to explore every nook and cranny of Beqa's mystical island and surrounding seas. Chase the sunset, swim with seahorses. Prepare to be totally enchanted.
Lalati is an affordable boutique Beqa Lagoon resort, with a staff waiting to welcome you into their hearts, and shower you with deluxe service and gourmet cuisine.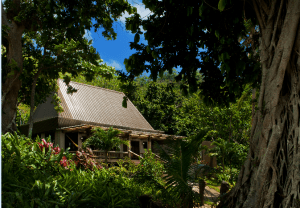 Plan the all inclusive honeymoon of your dreams. Or a memorable tropical wedding, under an arch of brilliant island blooms, led by fierce Fijian warriors and firewalkers. Renew your vows, or enjoy a beautiful anniversary to remember.
Learn to dive in Beqa Lagoon's nutrient rich waters, or plan an all-inclusive dive trip that will captivate even the most seasoned diver. Spend the day in one of the best Fiji spas.
Plan your Fiji trip of a lifetime at Lalati Resort & Spa.
So Many Dive Sites, You'll Wish You Had Gills!
Beqa Lagoon diving is captivating. Surrounded by one of the world's largest barrier reefs, it pops up on lists all over – including the top 10 dive destinations in the world, and one of the "1,000 Places to See Before You Die." Surrounded by over 190 miles of hard and soft coral reefs, this amazing living aquarium delights both novice and seasoned diver alike.
Visibility lies between 60-100 feet, with warm tropical water temperatures a consistent 79ºF/26ºC year round. Your divemasters grew up in and around the waters of Beqa Lagoon, and delight in sharing their underwater world with you. Your expert dive guides typical Fijian warmth and delightful humor, combined with Lalati's intimate size, epitomizes the personalized experience you get on each and every dive trip.
From Mucks to Wrecks
Dive sites in Beqa Lagoon number over 100, and most are as close to your front door as a quick 5-20 minute boat ride away. A kaleidoscope of soft corals abound. Colors glow in neon yellows, oranges, reds, pinks, whites and purples. Tropical fish explode in every shade of the rainbow. Blue Ribbon Eels, Clown Fish, Frog Fish, Lionfish and Leaf Scorpionfish, the elusive Ghost Pipefish and the shy Seahorse, pelagics and more make their home in the nutrient rich waters of Beqa Lagoon. Enjoy a few of our favorite Beqa Lagoon dive sites.
[youtube=http://www.youtube.com/watch?v=H-pM7DUGy5Y&w=400]
Diving in Beqa Lagoon
The multihued soft corals and immense variety of marine life is what differentiates South Pacific diving from diving in the Caribbean. And, in the gin clear waters of Beqa Lagoon, you'll find your dive sites are considered by many to be some of the best dive spots in the world. Soft corals unique to Fiji proliferate here, due to the nutrients in the tides that flow in and out of the lagoon.
The great pinnacles of Beqa Lagoon, a submerged volcano, a wreck, and shark dives, are just a short boat ride away on one of our 2 custom diving catamarans. Swim throughs reveal photogenic lionfish, while schools of barracuda and trevally cruise by. Tops of our bommies are so covered in soft corals and schools of swarming fish that your safety stops are hard to leave.