Beqa Adventure Divers is a PADI Dive resort specialising in some of the best shark diving the world has to offer.
We are a modern dive operation fusing Fijian hospitality with world class diving facilities. Our dive base at Lagoon Resort in Pacific Harbour is ideally suited to whisk you out to the incredible shark diving or beautiful reefs and mysterious wrecks of Beqa Lagoon in a matter of minutes and our FREE courtesy shuttle from anywhere in Pacific Harbour makes getting to us a breeze.
Our staff love diving Beqa Lagoon and even more so The Shark Dive. Dive the reefs of Beqa Lagoon guided or unguided, the choice is yours. We pride ourselves in being a small company that listens to the needs of our customers and providing an unequalled level of service and diving experience.
With secure storage facilities, hot showers, towels, refreshments and snacks provided, all you need to do is bring your bathing suit and a sense of fun and adventure!!
This is the original and unmatched product featuring Fiji's unique and 
highly experienced crew
 of Shark Divers – much copied but never equalled!
[vimeo=http://vimeo.com/6070653]
We are involved in ongoing cutting-edge research with an international team of scientists to better understand the Bull Shark population of Shark Reef Marine Reserve and have set up a comprehensive database about The Shark Dive which is unparalleled and continues to yield unique insights into the mysterious life of our free-roaming Sharks.
We also conduct regular surveys and fish counts aimed at documenting the results of our stewardship of this unique marine resource.
We do all of this with the aim of learning more about these majestic and endangered animals and contributing to their long-term survival.
Our findings have already prompted us to greatly expand the protected area by creating the protected Fiji Shark Corridor of close to 30 nautical miles along the southern coastline of Fiji's main island of Viti Levu.
Our newest Conservation Project will result in yet another Marine Park being established within the Corridor.
We will also take you to world-renown Beqa Lagoon, the Soft Coral Capital of the World. Here you will experience spectacular reef landscapes that are teeming with life, Fiji's famous lush soft coral forests,mysterious wrecks and exhilarating drift dives.
Featuring over fifty world-class dive sites, diving in the Beqa Lagoon caters to all experience levels.
Should you wish to get an introduction to this wonderful activity or just wish to upgrade your skills or your certification, our experienced resident Instructors offer a vast array of tailor-made basic, advanced andspecialty courses all the way up to the level of Dive Master.
We carry a complete selection of high-end rental gear and will soon be offering Nitrox as a contribution to your safety and enjoyment.
Beqa Adventure Divers' highly experienced and friendly crew has a traditional covenant with the Sharks of Beqa Lagoon and has perfected shark diving since 1998.
Our staff have also logged more than 30,000 hours diving the spectacular reefs of Beqa Lagoon. No dive team in Fiji can match this unique group of dedicated professionals.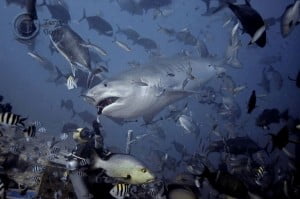 Here's why you should choose to dive with Beqa Adventure Divers.