Dive Fiji and learn to dive on the mind-blowing reefs that the Fiji Islands have become famous for. We employ both expat and local dive leaders who provide a varied wealth of knowledge and experience in an atmosphere that is both safe and fun.
We currently have three dive centers servicing eight resorts around the Mamanuca Islands and Yasawa Islands, each with their own unique underwater environments, as well as providing diving services for a cruise ship and day sailing vessel.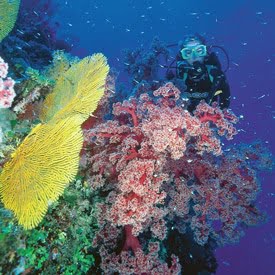 The closest diving to Nadi is around the Mamanuca Islands, where sites can be accessed by day trips or from resorts on the islands themselves. Arcing north from the top of the Mamanucas are a string of Islands known collectively as The Yasawas – these are more remote and have vast sections of uncharted reef.
The reefs around this area drop off to abyssal depths and the Mamanuca island group has become famous for dive sites such as The Salamander shipwreck, Sherwood Forest and Plantation Pinnacles. You can expect crystal clear wall dives with lots of hard corals, large schools of pelagic fish and plentiful reef sharks.
We have a base at Mantaray Island Resort on the small island of Nanuya Balavu. The resort has many features that make it stand out, including the majestic mantarays which frequent the surrounding shallow, fast moving channels.
We rendezvous with and pick up divers from Awesome Adventures' Wanna Taki cruisevessel, as well as those staying at Botaira Beach Resort, Barefoot Lodge, Korovou Eco Resort and Coconut Bay Resort, which are on the nighbouring islands of Naviti & Drawaqa.
Cruise Ship
Captain Cook Cruises' MV Reef Escape is a 60 cabin mini cruise ship uniquely suited to navigate Fiji's waters. Visit places without postcards, including islands never before visited by commercial vessels. Cruise among the Mamanuca and Yasawa Islands and dive uncharted reefs.
[youtube=http://www.youtube.com/watch?v=TmgEGHKz3Eg&w=400]
Set sail for a day's island adventure aboard tall ship Ra Marama and visit Tivua – Mystery Island. As well as diving you can observe marine life from a glass bottom boat, go kayaking, play volleyball and take part in a traditional Kava ceremony.
Diving is on the fringing reefs surrounding the island and certified divers will enjoy some great walls and coral bommies. Lionfish, clownfish and moray eels are common sightings. Introductory divers will be taken on a hand-held dive directly from the shore!
Locations
Coral Coast:
Shangri La's Fijian Resort and Spa (Cuvu)
Intercontinental Fiji (Natadola)
Mamanuca:
South Sea Island Resort (Vunavadra)
Bounty Island Resort (Kadavu Lailai)
Mystery Island Resort (Tivua)
Yasawa:
Barefoot Island Resort (Drawaqa)
Ra:
Wananavu Beach Resort (Rakiraki)
Yasawa, Rabi, Taveuni, Kiao, Yadua, Levuka,
Reef Endeavor (Cruise Boat)