We'd like to spread word on the newly published 'Sharks and Rays of Papua New Guinea', the first ever comprehensive reference of sharks, rays and chimaeras found in PNG waters – a number of which are found in close association with coral reefs.
It has a user-friendly layout and contains information on identifying features, size, distribution, habitat, biology and conservation status of 132 species.
It may be of interest to some here as many sharks are in common with Fiji's.
A PDF link to the resource : http://aciar.gov.au/files/sharks_and_rays_png.pdf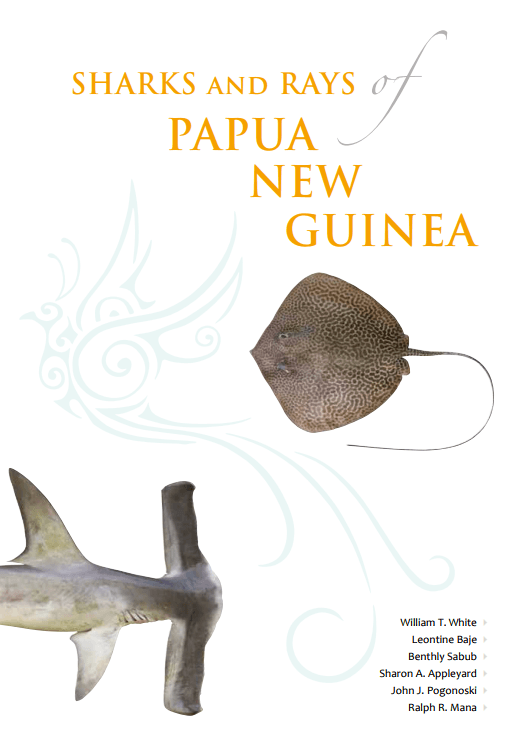 Introduction
This guide is designed to assist in the identification of the sharks, rays and chimaeras found in Papua New Guinea (PNG) waters.
A key is provided so that a reader can systematically identify a shark, ray or chimaera to its appropriate family and genus (when more than one genus is present) and be directed to the relevant pages. If the family is already known, users can go straight to the relevant chapter. When in doubt, we recommend using the families and genera key when trying to identify an animal.
Note that the characters used in some cases relate to the species observed in PNG only. For example, the two genera Chimaera and Hydrolagus are traditionally separated based purely on presence or absence of an anal fin. However, this character can be variable, and the generic arrangement of the family needs to be reviewed. In this case, the characters used to separate the genera work for the two PNG species but would not be appropriate in the broader region.
Species profiles follow the family key, and these are organised in taxonomic sequence, commencing with the sixgill sharks (Hexanchidae) through to the chimaeras (Chimaeridae). Each order of sharks, rays or chimaeras is colour coded on the right-hand side of each page spread and, within each of these sections, families are organised in taxonomic order.
Species within each of the families are organised in alphabetical order of their scientific names. Species accounts have been kept as simple as possible, but the use of some technical terms is unavoidable, and users should consult the illustrated glossary (p. 11) for a definition of these terms if uncertain of their meaning.
Species profiles
Aspects of the size, reproductive biology, diagnostic features, distribution, habitat and ecology, colour and utilisation of species, and comparison with similar species are provided for each species under appropriate subheadings. The current global International Union for Conservation of Nature (ICUN) Red List conservation status is also provided for each species.
Common and scientific names
The English common names generally follow those adopted by Ebert et al. (2013) for sharks; Last & Stevens (2009) for Australasian-region sharks, rays and chimaeras; and Last et al. (2016) for rays, with the exception of some recently described species for which common names were proposed by the relevant authorities.
Local PNG common names were not included because of the large numbers of cultural groups and languages in PNG, resulting in many different names for some species. Such a comprehensive listing could not be achieved during this project.
The scientific name of each species consists of genus and species names, the name of the author(s) who named it, and the year in which it was named. Parentheses around the author(s) and date indicate that the author originally placed the species in a different genus. New species, or species of uncertain identity, are referred to by a generic name and 'sp.' Alternatively, 'cf ' is placed between the generic and species names if the species is similar to, but possibly different from, a named species.
Images and illustrations
Where possible, images of PNG specimens were used in the species treatments. When images were unavailable from PNG, a suitable image from an adjacent region
was used. In these cases, priority was given to images of specimens from Australia or Indonesia. Exceptions to this protocol include images of the whale shark (Rhincodon typus) from the Okinawa Churaumi Aquarium in Japan, the bluntnose sixgill shark (Hexanchus griseus) from India, the smalleye stingray (Megatrygon microps) from Mozambique (based on an underwater image), and the sixgill stingray (Hexatrygon bickelli) from Taiwan. In each of these cases, we are confident that they refer to the same species based on molecular results to date.
Additional photographs were used, where possible, to highlight features indicative of a particular species that are not apparent on the primary image. When photographs were unavailable, line drawings were used. Line drawings used were illustrated by either Georgina Davis or Lindsay Marshall (www.stickfigurefish.com.au). The majority of photographs used in this book were taken from this study (National Fisheries Authority observers or project team) or from the Australian National Fish Collection image collection. For those images obtained outside of these sources, the photographer is credited in the 'Image details' section for each species.
Conservation status
The conservation status for each species, following the IUCN Red List of Threatened Species (www.iucnredlist.org), is provided as a symbol located below the primary image for each species, as of December 2017.
The categories used are: NE—Not Evaluated, DD—Data Deficient, LC—Least Concern, NT—Near Threatened, VU—Vulnerable, EN—Endangered and CR—Critically Endangered. Species in one of the three latter categories (VU, EN and CR) are considered threatened. The colour of each of the symbols follows the standard colours for each category as defined by the IUCN. It should be noted that the Red List is a dynamic publication so we recommend consulting www.iucnredlist.org for updates on species of interest.
Size and basic biology
Measurements refer to the total length (TL) for all sharks and some rays (Pristidae, Rhinidae, Rhinobatidae, Glaucostegidae, skates, Torpedinidae, Narcinidae, Hexatrygonidae and Urolophidae), disc width (DW) for some rays (Dasyatidae, Gymnuridae, Aetobatidae, Myliobatidae, Rhinopteridae and Mobulidae) and precaudal length (PCL) for chimaeras. Total length is measured as a straight line from the tip of the snout to the tip of the extended upper caudal-fin lobe. Disc width is used in those ray groups where the tail can commonly be absent or damaged. In addition to the maximum size, the sizes at birth or hatching, and at sexual maturity, are given for each species when known. The number of pups per litter and the reproductive mode are also given when known. For oviparous species, a brief note on the egg cases (size and/or colour and shape) is provided where information was available.
Key features
These are the main features by which a species can be most easily identified in the field. They include body shape, teeth shapes, fin positions and dimensions, and colour patterns. The diagnostic characters for each species allow the separation of that species from other closely related species and genera. Although it is preferable to use simple features that can be readily used in the field, in some instances more technical features are included to ensure correct species identification.
Colour
A brief colour description of each species is provided. The colour descriptions typically describe the dorsal and ventral colouration, and any distinctive fin or other body markings. Distribution A brief sentence on the global geographical distribution is provided for each species, including known depth range. More detailed information on the distribution in PNG waters is given when known.
Habitat and biology
This section covers basic information such as habitat use (pelagic and oceanic, demersal on continental shelf, sexual segregation, etc.) and diet composition.
Utilisation
This section briefly details the interactions of each species with fisheries in PNG and, if known, what parts of the animals are used.
Remarks
This section includes any other relevant information that does not fit into the other categories, such as movement information, taxonomic notes, new records, and comparison with similar species outside PNG.
Similar species
This section provides basic information to separate the species in question from the most similar species occurring in PNG waters. This allows a reader to quickly compare similar local species without needing to turn between pages constantly.
Image details
This section provides the location, size and sex of the specimen(s) in the images provided for each species. Attributions are included when images were obtained
outside the project or from CSIRO's image collection.
Fin identification guide
Many of the shark species encountered during this study were confirmed by examination of dried fins, mostly by DNA barcoding. As a result, it was considered highly relevant to include a guide to the commonly finned species of sharks based on the first dorsal fins. It should be noted that some closely related species are very difficult to separate based on only the first dorsal fin. Thus, this guide groups similar species together to avoid mis-identification among species with similar-looking dorsal fins.
Indexes
Indexes of scientific names and common names are provided on pages 320 and 324, respectively.